13th Precinct Officials Address CB5 Public Safety Quality of Life Subcommittee on Recent Flatiron Violence, Other Issues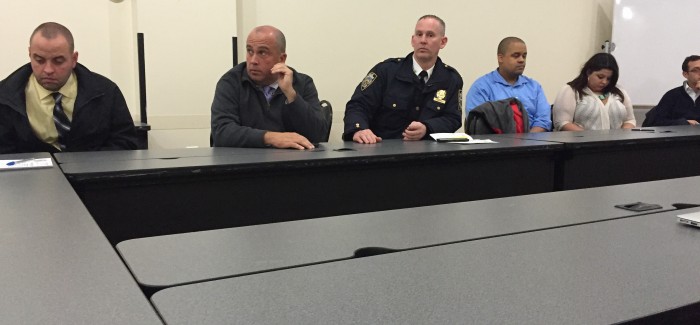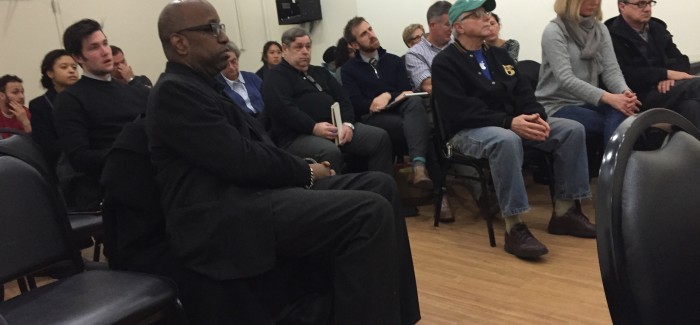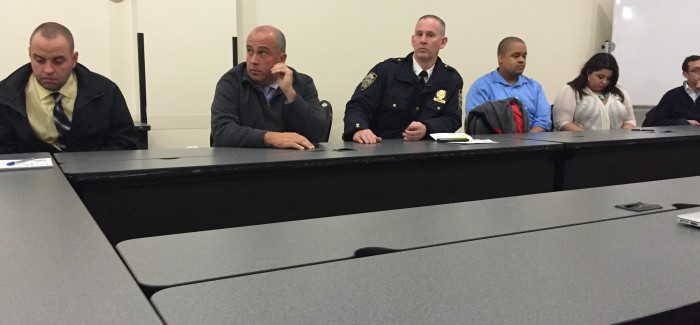 On

November 24, 2015

http://www.flatironhotnews.com
Reported by the Flatiron Hot! News Editorial Staff
Community Board 5's Public Safety and Quality of Life Committee, responding to two recent shootings at local establishments in the Flatiron District, held an open public session to hear input from the public and get a report back from the 13th Precinct's senior officials on what's been taking place in our neighborhood.  The meeting, on Tuesday evening, November 24th, at the NYC Seminar and Conference Center in Flatiron/Chelsea, was attended by almost 30 area residents in addition to the CB5 Board Members.  The 13th Precinct head, Captain Brendan M. Timoney, held forth for 45 minutes on his staff's perception of the area, and then fielded questions from the CB5 Board Members and the general public.   The 13th Precinct's heads were quite adamant that the two incidents in question that involved the use of firearms (one at popular night spot Pergola, and the other at Club Motivo, where innocent bystanders were involved – in one case a person was killed, and in the other a bystander was wounded) were two isolated incidents involving groups of people whose emotions got the better of them in personal arguments, resulting in gunfire as people returned to the scene with weapons afterwards.   In one case, good detective work led to the apprehension of one of the suspects shortly after the incident.
When questioned about whether the plethora of
nightclubs and bars in Flatiron were trending up in terms of violence and gun play, the officials present reeled off convincing numbers indicating that altercations such as this were quite rare, and that other metrics of criminal activity such as robberies, arrests and drug use were all declining relative to historical norms.  The police reported on continued progress on issues of special relevance to the Broadway area, including the sale of counterfeit goods that has been a continuing problem in the corridor, and in fact, went out of their way to compliment many of the area's bars and restaurants on doing a good job managing their own security and working in tandem with the police.  A couple of attendees made reference to problems of harassment and feeling threatened in certain circumstances by people in the busy late-night hours; the police encouraged people to travel in groups when returning home late at night, or if they really feel threatened, to file police reports with the precincts.  The threat of gunfire and deadly violence in our neighborhood is, according to the police, only a sporadic and isolated issue right now.  However, they did mention that there are real issues with an increasing number of homeless people and vagrants, who are avoiding using the public shelters.