NYCSCC Upgrades Room with New Hi-Tech Lighting and Audio!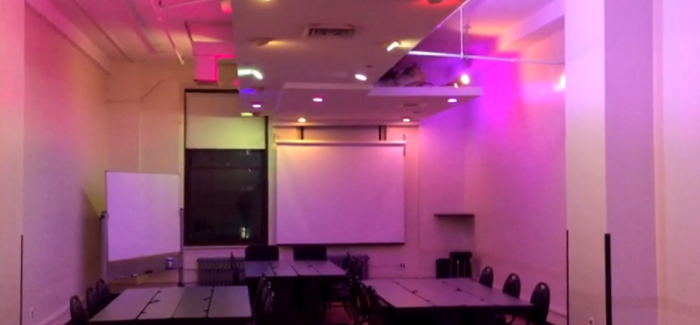 On

February 24, 2016

http://www.flatironhotnews.com
Reported by the Flatiron Hot! News Editorial Staff
Chelsea and Flatiron-based NYC Seminar and Conference Center, Flatiron Hot! News sponsor, reports that one of its most popular spaces, Seminar Room C, is now equipped with customizable lighting designed to suit the taste and needs of even the most demanding event planner. The addition of hidden speakers and wireless audio makes this room more functional than ever. Click here to check out a short clip of the lights in action.
NYCSCC didn't stop with the lighting. They also added real-time wireless audio to the room. Hidden speakers are now capable of driving audio from any microphone or portable media device. Bluetooth doesn't always work and is sometime spotty when it does; that's why NYCSCC opted to use Denon's wireless technology instead. Simply plug the provided audio cable into your device and you're instantly ready to play your media. Additionally, microphone setups can be requested on the fly thanks to the introduction of this versatile technology.
For details on their upgraded room and other spaces, or to book a room or arrange a site tour, click here, or feel free to reach out to their  Sales Staff at 1-800-326-5494, or email them at salesteam@nycseminarcenter.com.