Flatiron Waffle Original Makes Good – Wafels and Dinges Founder Branches Out with New Storefront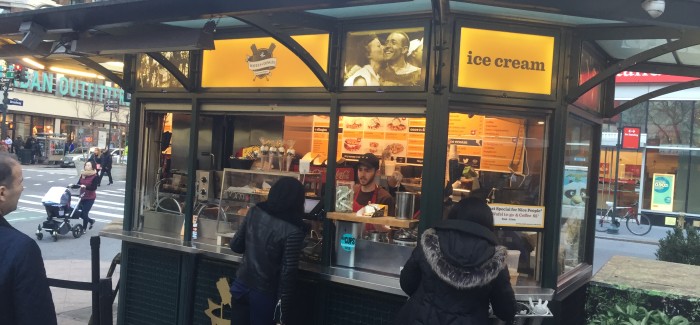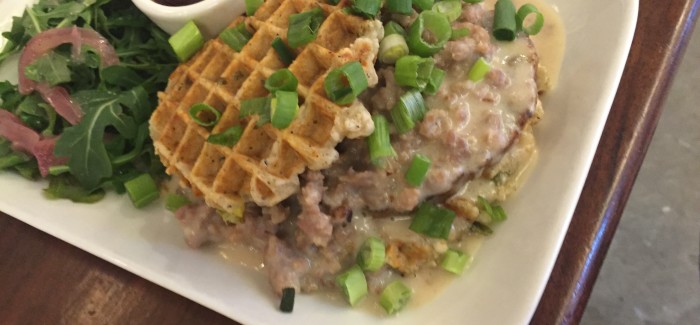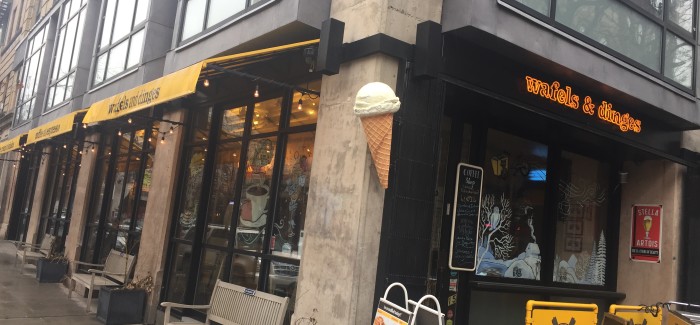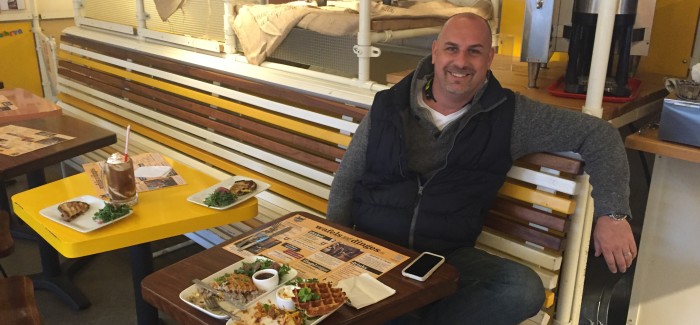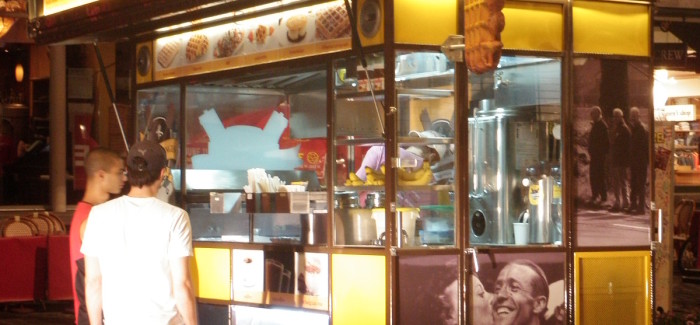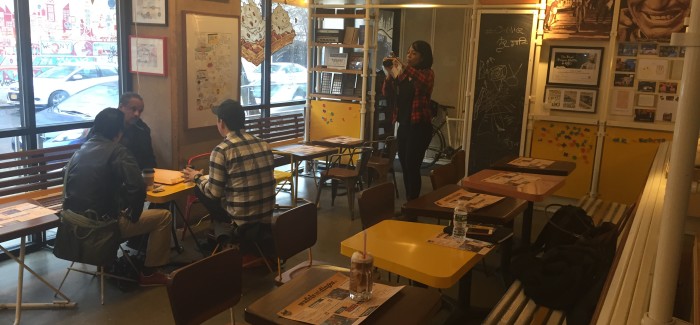 Reported by Tod Shapiro – edited by the Flatiron Hot! News Editorial Staff
Special Update!: 
Our thoughts and Prayers go out to our friends and allies in Belgium after the terrorist attacks in Brussels.  Belgium, and all it offers to us here in the states in terms of culture, food, conviviality and entrepreneurial energy is greatly appreciated in Flatiron and Chelsea, as our great Markt Cafe and Waffles and Dinges have long added so much to our community.
In solidarity with Belgium, we are glad to note a special promotion for International Waffle Day on March 25th!  Flatiron's Wafles and Dinges is offering a free waffle to all those who can bring a hand-made rendition (drawing, scarf, sculpture, etc) of the Belgian Flag, provided one can render it with all three colors in the correct sequence.  
Flatiron District and Chelsea have been incubators for all sorts of great ideas and trends, and a magnet for creative entrepreneurs of all types – that would include digital media, web startups, and advertising – but let's not forget the outstanding reputation our neighborhood has for cutting edge cuisine and dining.  I recently had a chance to sit down and sample the well-known culinary delights of Wafels and Dinges at their new brick and mortar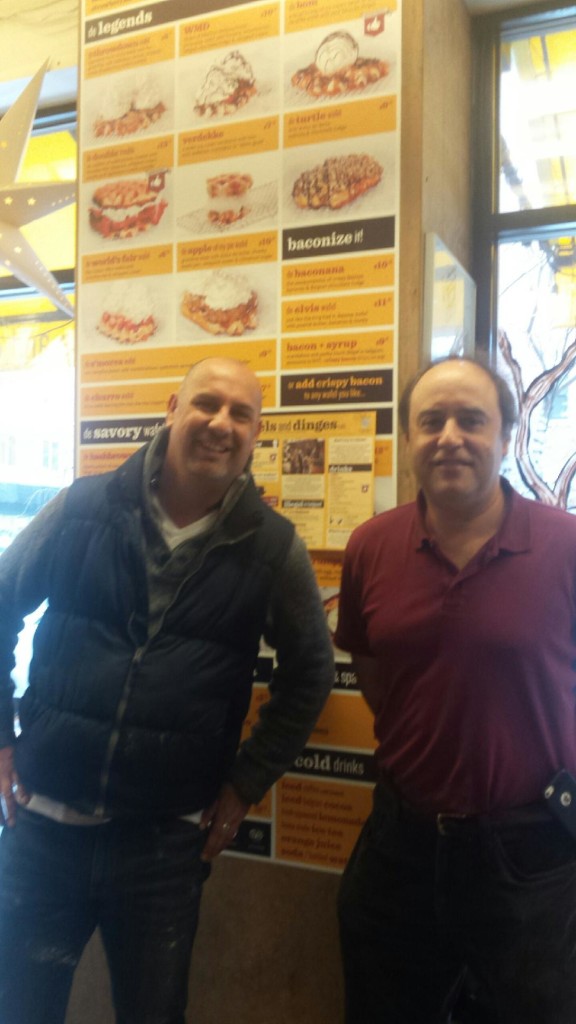 storefront in Alphabet City at 2nd Street and Avenue B, just a short subway ride on the F train from Flatiron.
Thomas DeGeest, the founding entrepreneur and expatriate Belgian waffle visionary (and wonderful raconteur) sat down with me to talk about the progress and growth of his very successful and expanding waffle business, which includes the storefront, two trucks, kiosks in Herald Square and Bryant Park, multiple street carts, and "pop-up" presences in Union Square and other city locations. You can't miss them with their bright yellow branding, and their mouth-watering aroma of freshly cooked waffles.
Thomas, who bills himself quite modestly as the "Special Envoy for Wafels c/o the Belgian Ministry of Culinary Affairs," held forth on the pleasures, perils, and challenges of the street vendor industry in NYC, which he has done so much to popularize and grow since 2007.  And he has a special connection to Flatiron and Chelsea – his first truck, in which he started his business on a shoestring, often did its best business right in front of NYCSCC's 71 West 23rd Street location at 6th Avenue (when the cops would let him park there).
Thomas and his yellow truck started appearing on a regular basis in our own Flatiron and Chelsea District, and other up-and-coming neighborhoods, parked on the street and offering a new diversity of food offerings to people out for lunch or a weekend stroll. Of course, the street vendor industry – think hot dogs, cotton candy, pretzels – has long been part of our cityscape, owned and operated by hard-working immigrants who offered low-priced foods and treats as an alternative to the brick and mortar stores, and often at a more reasonable price.
Thomas is that most emblematic of archetypes, the irrepressible business visionary.  He's an immigrant entrepreneur and now naturalized American citizen from Belgium who was working as a technology executive in the U.S. but somehow ended up following his passion. He never lost his love of his native country's customs, culture, and of course, fine cuisine in the form of the famous Belgian staple, the waffle! Of course, no Belgian is going to be content with the poor American imitation of the waffle (think "Eggo"). Just because something is called a waffle doesn't make it a "wafel"! Thomas related to me his connection with the cultural government-affiliated powers  in Belgium that encouraged, as part of a proactive marketing and cultural outreach, the propagation of authentic Belgian wafels – and thus was born "Wafels and Dinges"! On leave from his "real job", he took his modest savings, bought an old truck, painted it yellow, and rigged it out with waffle-making paraphernalia, but with this difference – the waffles he made fresh were done so according to strict quality control procedures and real Belgian recipes, such that a true Belgian would approve and partake of these authentic pastries.
Wafels and Dinges, Thomas's creation, became part of a leading wave of "premium" street vendor food offerings exponentially removed from the earlier street vendors and their more prosaic offerings. Tom, and his many competitors, have transformed both the expectations and offerings for street vendors since his start, and obviously with great success.  Wafels and Dinges has expanded to the point where they now have their own brick-and-mortar store at 2nd Avenue and Avenue B in the hot Lower East Side area. He told me that he has big ambitions for the home delivery service that Wafels and Dinges now offers, as well as catering for those businesses, like NYCSCC, that might want to offer some unusual choices to their business clients.
I can tell you that the offerings at the store are incredibly extensive and expand upon what we have come to expect from the trucks and carts.The store shows some thoughtful and entertaining decor and furnishings, with many interesting artifacts and photos decorating the walls, of course decked out in the Wafels and Dinges trademark yellow. Not surprisingly, Saturday and Sunday brunch are among the most popular times. The store has a plethora of waffle offerings of every type that go way beyond the standard authentic Belgian offerings. Thomas offered me an absolutely scrumptious sausage and gravy waffle that made my day.  It might have been based on something served down south and was way beyond a simple breakfast waffle.  I also had a chance to sample what appeared to be a "burrito" waffle with tasty meats, garnishes, and special sauce. In fact, what I'm observing is that Tom has moved beyond the singular Belgian Wafel that was his concept at the start to something that represents the best of New York City – a melting pot of many cultures and cuisines. Way to go,Thomas!
For those of you who are familiar with the trucks and carts, you must check out the extended offerings at the new storefront. Did I mention the incredibly rich and textured caramel and chocolate shake he offered?  This was at least the equal of any milkshake I could get at an ice cream parlor. I would say, for sure, that Wafels and Dinges has turned into something new and different, even beyond what Thomas originally thought to create when he started.
Thomas took some time to discuss the challenges facing the street vendor industry, which he still considers himself a big part of. He identified the challenges of a lax and uncertain regulatory and enforcement environment for the carts and trucks and the difficulty of knowing just when and where a vendor can expect to be allowed to conduct their business. It varies literally street-to-street and park-to-park, so one never knows what to expect.  For any business, consistency and fair treatment from the authorities is essential to be able to plan and grow, just like in any other industry. Tom was clear that NYC, as a world-class city, has to step up to the plate and establish modern and growth-oriented regulations for street vendors that are in place in other cities around the globe. At the same time, he was clear that his own cohorts in the trade have to step up to the plate and assume responsibility for their actions, and be part of of the discussion by making their needs known in local forums to press for reasonable and fair regulations for both street vendors and brick- and-mortar operations.
So, I urge all waffle lovers to check out the Wafels and Dinges store, and keep your eyes peeled for the familiar yellow trucks, carts, and kiosks. Flatiron and Chelsea denizens should make a beeline for Herald Square and now Bryant Park to get your fix! If you can't stop by the store in Alphabet City, feel free to check out our handy Flatiron Hot! Video Clip below, to see just what you're missing at the store, and hear Thomas himself hold forth on his favorite subject – Wafels and Dinges!  Feel free to follow or reach out to the Wafel crew at twitter at @waffletruck, and at Instagram and Facebook with wafelsanddinges … and you can check them out on-line at www.wafelsanddinges.com!