Big Bling Towers Over Madison Square Park – First Impressions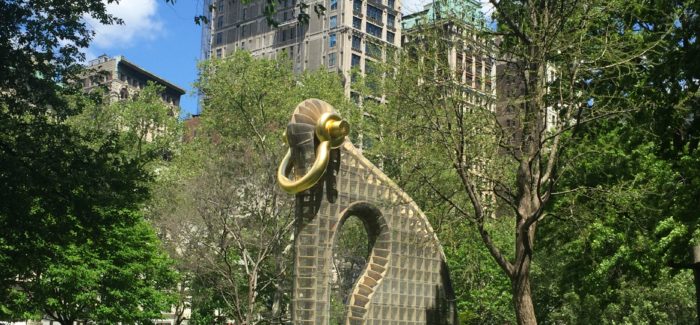 On

June 16, 2016

http://www.flatironhotnews.com
Reported by Stephanie Sioufas and edited by the Flatiron Hot! News Editorial Staff
Now that Big Bling has settled in at its new home on the Madison Square Park great lawn during its six-month stay in our neighborhood, it's a good time to check it out and get some first impressions! It is so close to NYC Seminar and Conference Center that people can take a short walk one block east during their lunch break to enjoy the beautiful sculpture.
Big Bling is the new exhibit for MAD. SQ. ART in 2016. This massive art piece can be admired from afar to see the bigger picture or up close and personal to get a glimpse of the detail that went into it. Created by American artist Martin Puryear, Big Bling is the largest sculpture he has ever made. As it is conveniently located in Madison Square Park, people can easily stop by and take a look while walking from Grand Central Station to NYC Seminar and Conference Center or vice versa.
Big Bling is a marvelous attraction that sets up an area for adults to admire and children to play and learn. As seen in the pictures provided, the sculpture is constantly surrounded by people marveling at its beauty. Being created out of only three main items, wood, chain link fence and a gold-plated shackle, the sculpture is simple yet sophisticated.
There is an underlying theme that the artist had behind Big Bling which connects to the area in which it stands. The idea of "bling" refers to the slang term for flashy jewelry which came from urban youth, hip-hop and rap. The idea of being rich enough to have a lot of "big bling" plays into urban youth culture. Martin Puyear used urban materials such as the chain link fence and wood to create ascending levels that are then blocked off by the chain link fencing up until the golden shackle, as if to represent the layers to climb and barriers to entry that urban youth have to face in order to achieve the ability to have 'Big Bling'.
Even though the sculpture has a deeper meaning behind it that should be appreciated, it is worth enjoying for visual reasons alone. Being surrounded by a field of grass with lots of park benches and trees nearby, Big Bling is located in an optimum spot for people to sit, relax and enjoy the view. Make sure to visit on a sunny day on your way to NYC Seminar and Conference Center to see the sun shine off of the gold shackle!