Tech Tuesdays: ThoughtMatter's Lecture on Branding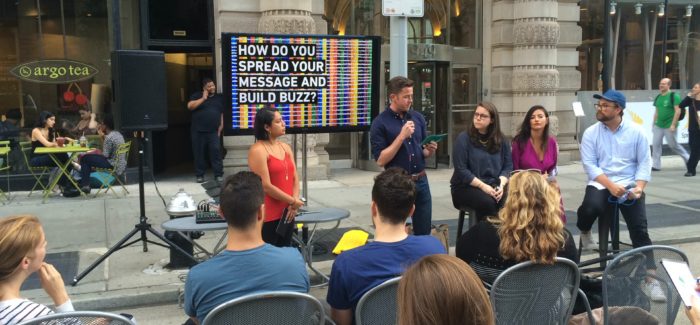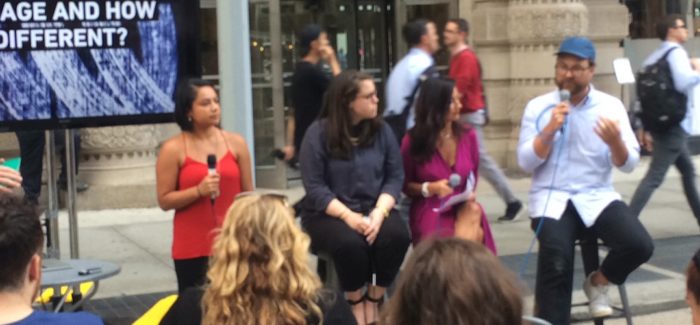 On

August 4, 2016

http://www.flatironhotnews.com
Written by Max Shapiro and Edited by the Flatiron Hot! Editorial Staff
For Flatiron's latest weekly Tech Tuesday lecture at the South Plaza, brand design and strategy studio ThoughtMatter returned to give a lecture on how to make branding work for your business. Speakers Jessie McGuire and Trenton Kenagy inquired of business owners Kate Haberbusch, Noah Armstrong, and Gloria Pitagorsky about the keys to successful branding.
One key factor regards how to make the message your business is trying to convey unique. According to Armstrong, it's all about "what your central style, vibe, and message is." You must create a "vibe" that makes your message stand out. Admittedly, he did say that it's "a tricky thing to harness." However, it's not impossible. Pitagorsky stated that proper branding doesn't require spending lots of money. All you need is a clear vision of what you want your business to be and what image you want to create for it. For example, Haberbusch runs an interior design service known as Homepolish, and the message they have established is that they can be affordable for the mainstream crowd, since it is often assumed interior design services can only be afforded by the very wealthy. Haberbusch stated that utilization of social media services such as Instagram helps spread her message about how interior design is something anyone can benefit from. They key is to build a sustainable community that believe in your brand.
So quite clearly, there is a lot more to branding than simply making a logo. It's about forming an identity for your business, and conveying a clear and concise message that lets people know what it has to offer. Without branding, no one would be able to differentiate McDonald's from Burger King or Target from Walmart. If businesses of the same kind are all like ice cream, then their brandings are their flavors. Overall, this presentation provided a lot of great tips and hopefully all you business owners out there will be able to get something out of this. To see snippets of the lecture, take a look at the video below.