My Experience as a High School Intern at NYCSCC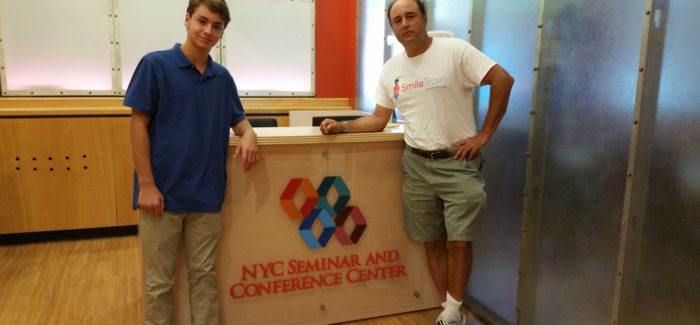 On

September 3, 2016

http://www.flatironhotnews.com
Written by Max Shapiro and Edited by the Flatiron Hot! News Editorial Staff
My name is Max Shapiro, and I am entering my sophomore year of high school. This summer, I worked as an intern at NYC Seminar and Conference Center, co-run by my father, Steven Shapiro and my uncle, Tod Shapiro. After working there for two months, I can now share my experiences so future high school/college interns will know what to expect.
As my strongest area has always been writing, I spent the bulk of my time writing for the Flatiron Hot! News blog (run by Tod), reporting on events taking place in the neighborhood and on occasion writing my own editorial articles. The purpose of the blog is basically to talk up the Flatiron district. This ties into promoting the business because NYCSCC is located in heart of Flatiron. If you contribute to the blog, you'll be going around the neighborhood and reporting on various events, such as concerts, nonprofit events, new restaurants, and other things that may pique people's interest.
I also spent some time helping with events within the conference center itself. I helped set up events before they began, making sure every last thing such as the seating and catering was set up properly, and when they were over I helped clean up. On paper this all sounds easy, but keep in mind that this is a professional business, so if we are to present ourselves as such, the quality of our work down to the tiniest detail must be perfect. Things don't just need to be done, they need to be done right.
If you're skilled in programming, you'll probably spend most of your time working with Kazem Moradi and my cousin, Corey Shapiro, making sure the computer systems as well as the NYCSCC website are always up and running.
The working environment at NYCSCC is fairly laid back. However, that doesn't mean you aren't expected to always make productive use of your time. While veteran staff will certainly help you in the beginning stages of your internship, as the summer goes on, you'll be expected to become more independent and carry out tasks even if you're not told specifically to do so. This may sounds intimidating, but it becomes second nature over time.
So to sum it up, my experience at NYCSCC was largely a positive one. Working in a small business certainly has its perks, as the overall ecosystem is less tight-wound than it would be in a larger company. If you're up to the task, I would definitely recommend an internship here. It's a good experience that will teach you the skills you need to be an employee in a small business, which will certainly help you out in your future. If you're looking for something to do that's highly productive and will teach you a wide range of important basic working skills, NYCSCC is the place to be next summer.