Lots of Networking Going On: Flatiron 23rd Partnership Celebrates 10 Years as BID at 230 5th!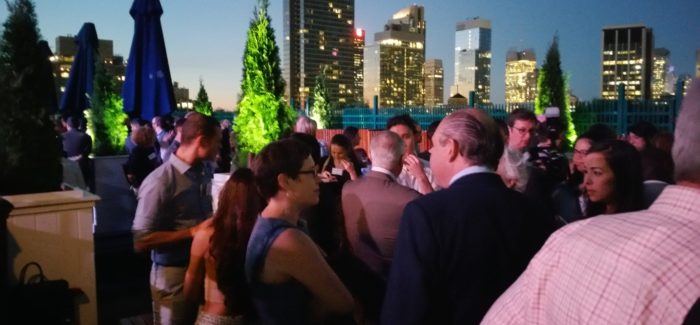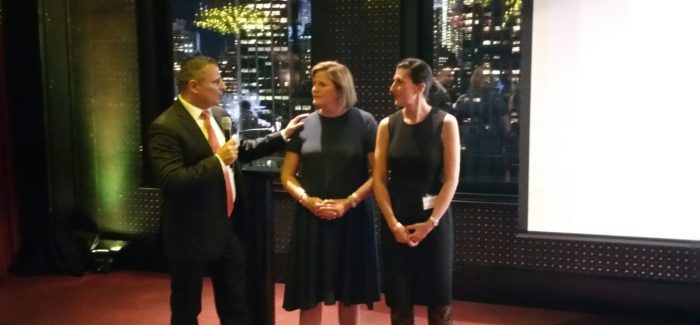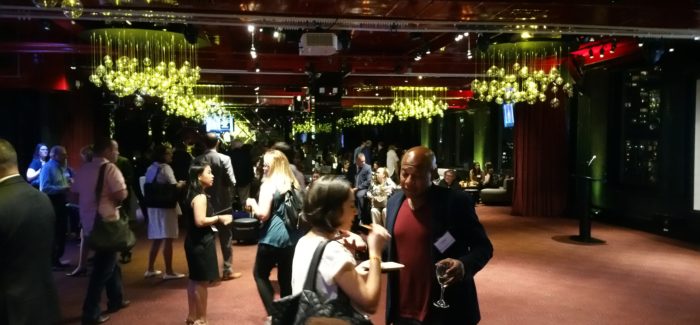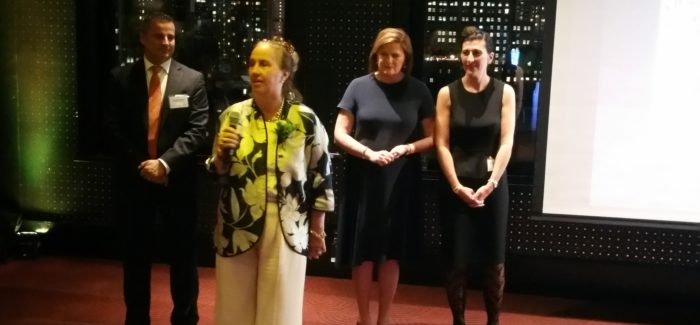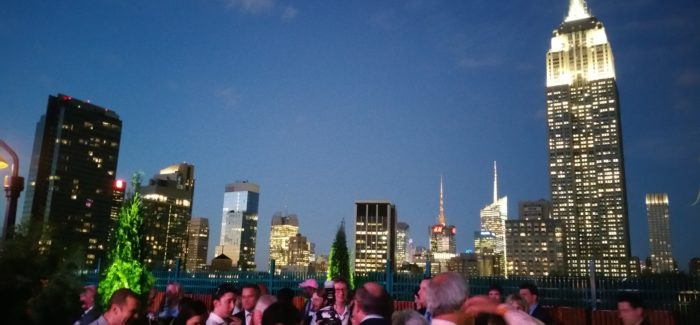 Reported by Tod Shapiro for the Flatiron Hot! News
This Wednesday night I had a chance to attend the Flatiron 23rd Street Partnership's annual "Celebrate" networking bash which, as in past years, took place at Flatiron's 230 5th event venue.  Our local BID was celebrating its 10th anniversary, and a good cross section of Flatiron and Chelsea's movers and shakers in the business, political, and real estate sectors were in attendance to enjoy some fine food and drinks, take in the excellent view from 230 5th's rooftop deck and compare notes and network for the greater good of commerce and the neighborhood.
The Flatiron BID is responsible for managing our Public Plazas on 5th Avenue and Broadway, as well as services and amenities that have added so much to our neighborhood and its livability, including sanitation and cleaning services for the district, the installation of free public WiFi, programming and events that keep us informed on current affairs in our neighborhood and help us celebrate the holidays, and a wonderful web site that keeps all of us in the loop on what's new in our district – among other things!  The district is funded largely by the city out of taxes paid by local businesses and property owners, and in my opinion is an example of tax dollars well-spent that can be seen as visibly improving our local neighborhoods.
The BID, along with a plethora of city agencies and other concerned parties, are currently working on an ambitious plan for permanent capital improvements for the Flatiron Public Plazas that will continue turning these once drab, boring traffic islands into a wonderful place to sit and be seen, and a public meeting place and venue for events, promotions, and congregation for friends and family right in the heart of the Flatiron District.  The BID has done its job so well that it has become a leader and trendsetter for BIDs across the city, and also the country, as it has stepped in where other local government entities were either too busy, or too distracted, to offer these kinds of services in a way that keeps in touch with the grass roots of the local neighborhood, its people, and its local businesses and flavor!  For those who remember what the Flatiron District, as well as Madison Square Park (kudos to the Madison Square Park Conservancy, who also do yeoman's work in keeping things up) were like many years ago in terms of amenities, cleanliness, and public services, this should not be taken for granted.  Certainly, NYC Seminar Center, Flatiron Hot! News' sponsor and a Flatiron/Chelsea small business dating back to 2005 –  has benefited from the surging popularity of the Flatiron District, as no doubt have many other small businesses and area residents, and has used it as part of its branding and web-based promotion of its own event and conference space, as can be seen in its new web site for its large Conference Hall at 71 West 23rd, now known as the Flatiron Hot! Event Hall!
After enjoying drinks and appetizers on the wonderful 230 5th rooftop deck, with its sweeping panoramic views of the Flatiron and Mad Square Park skyline, and its breathtaking views looking north toward the Empire State Building, the crowd of area business owners, real estate professionals, and concerned local residents retired to the interior 20th Floor lounge area, where BID Board Member Nick Athanail recounted some of the progress over the past 10 years, joined by BID long-time Executive Director Jennifer Brown.  Jennifer gave a quick update on BID efforts, and then narrated the BID's new promotional video (available on the BID's ubiquitous web site) that highlighted some of the accomplishments of the BID in its 10 years of service.  Also on hand was Manhattan BP Gale Brewer, who congratulated the BID and other neighborhood groups including CB5, for their combined efforts to keep the District going.  For those who couldn't make it, here's a quick video clip from Wednesday night's proceedings.   A very happy 10th birthday to BID and all its staff – keep up the good work!