Flatiron BID, Van Alen Announce 2016 Public Plaza Holiday Display Contest Winner – LOT's "Flatiron Sky-Line"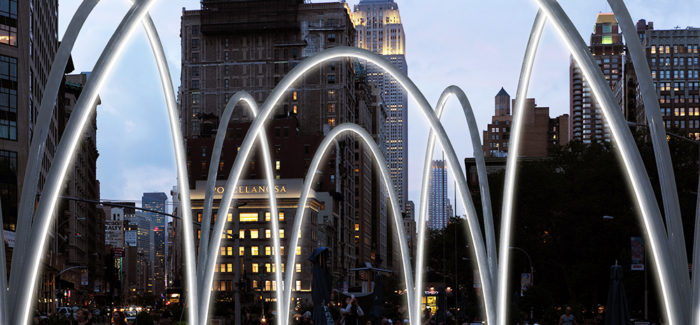 Reported by Tod Shapiro for the Flatiron Hot! News
The holiday season in Flatiron, NYC Seminar & Conference Center's home base, is beckoning and we've become accustomed to some exciting and sublime designs to warm our holiday hearts with lights, mirrors, brushed chrome, and neon bulbs of all shapes, colors, and sizes.  The Flatiron 23rd Street Partnership, in conjunction with Van Alen Institute, just announced the award winner for a 2016 holiday display in the Flatiron Public Plazas!  The last few years have seen some pretty high-tech avant garde designs, things that would look right at home on the deck of the Starship Enterprise or as a throw-away from a Jack Kirby double-page spread from his Marvel days.
Every year the Flatiron 23rd Street Partnership holds a design competition, encouraging some cutting-edge design firms to submit plans for holiday decorations for the Public Plazas in an effort to add some glamour and excitement for Flatiron denizens – our Public Plazas have become the "go-to" place for displays of the latest ad campaigns, displays, and public events befitting Flatiron's status as a digital media and tech hub.  The BID sent out a press release detailing this year's winner and campaign finalists – so it is that LOT, a big-shot design firm based in NYC and Greece and headed by noted designers Elen Petaloti and Leonidas Trampoukis, has won this year's contest with their "Flatiron Sky-Line."  It looks at first glance like a series of rod-like neon-lit girders that frame Flatiron's buildings and the views across Mad Square Park, and which will no doubt encourage lots of picture-taking and double takes as Flatiron occupants pass by on the way to work each day, or as they go to enjoy the Park.
So, to get everybody in the holiday spirit, Flatiron Hot! News is showcasing some renderings to whet your appetite. It should be ready to go on Monday, November 21st at the North Plaza at Broadway, 5th Avenue and 23rd Street, as always, and will be up through the BID's "23 Days of Flatiron Cheer" campaign.  Get your cameras ready.  Here's what Jennifer Brown from the BID and David van der Leer from Van Alen have to say about this year's winner:
"The holiday installation is now a tradition in the district that is enjoyed by locals and visitors alike.  It provides a festive experience on the Public Plaza during the holiday season," said Jennifer Brown, Executive Director of the Flatiron/23rd Street Partnership. "Flatiron Sky-Line most certainly will become a destination for people who already are in love with Flatiron – or are visiting our neighborhood for the first time."
"This project is an exciting opportunity to engage with a local site and designer," said David van der Leer, Executive Director of Van Alen Institute. "LOT's Flatiron Sky-Line offers a chance for visitors to the plaza to pause and witness the spectacular landmarks and invigorating street life of the neighborhood."
For those who want to learn more, click here for the press release, and for pics and descriptions of all of this year's design contestants.  Help bring this to our Flatiron and Chelsea neighbors' attention with the hashtag #FlatironSkyline on Facebook and Twitter!