New Lunch Options on 23rd Street in Flatiron: Fields Good Chicken, Cartoshka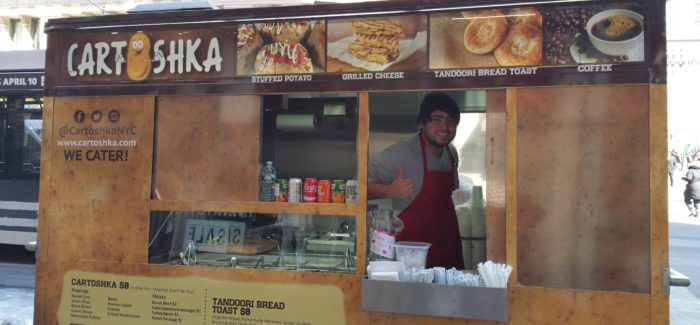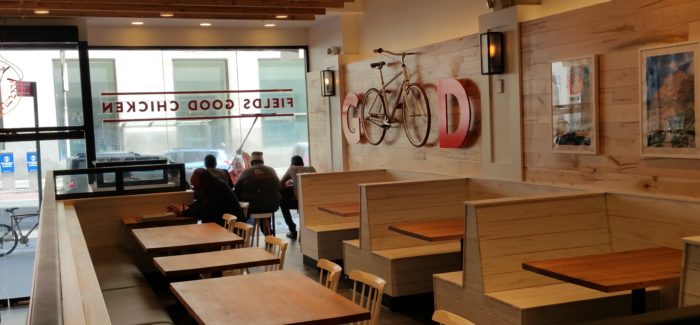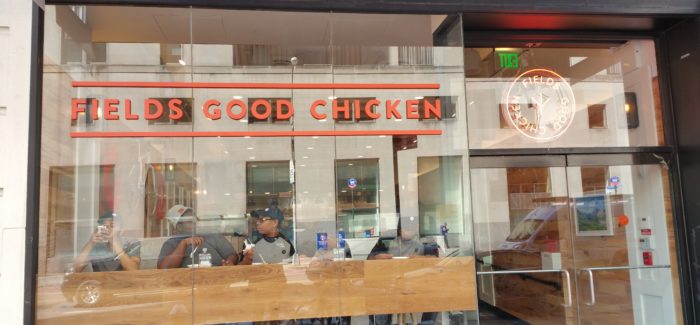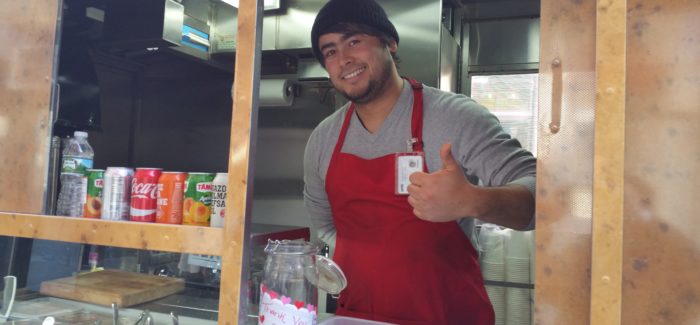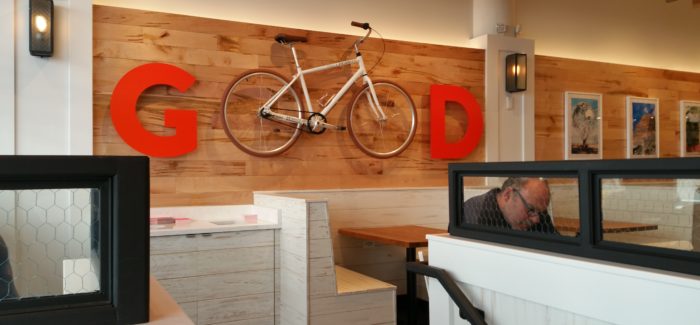 Reported by Tod Shapiro for Flatiron Hot! News
The first indication of warm spring weather enticed me to take a walk at lunch time in the district and check out some of the new choices around Madison Square Park and 23rd Street.  Sure enough, the corridor along 23rd Street between Park Avenue South and 5th Avenue turned up two new offerings, one a new storefront "fast casual" eatery going by the name of "Fields Good Chicken", and a first-time sighting of a new food cart, "Cartoshka"!
The Cartoshka Cart employee turned out to be the owner-operator himself, and he gave me the rundown on his offerings – fresh baked potatoes with an extensive series of toppings – sour cream, cheese, veggies, and more to choose from – a long way from your typical hot dog or bagel cart, and in tune with the exotic offerings we've come to expect from the carts in our neighborhood.  Only $8 for the potato – and $5 for what looked to be a delicious grilled cheese sandwich – several dollars less than many of the offerings in the storefront eating establishments lining 23rd Street and a very good option.  Mr. Cartoshka assured me that he was going to make Flatiron a regular stop in the future – so be on the lookout!
I then wandered into the brand new Field's Good Chicken store on the south side of 23rd between Park Avenue South and Madison (44 East 23rd Street to be exact) (one of four locations in NYC).  It features a healthy selection of chicken dishes in many configurations on its menu – quarter chicken, half chicken,  whole bird, boneless grilled, as well as a number of chicken "bowls" and salads.  Of course, there are a whole range of obligatory side dishes that you can add to your chicken entree, including some intriguing choices such as smoked beets, Mexican corn "off the cob", roasted broccoli, and marinated kale and butternut squash among others.  Prices range from $5.55 for quarter bird leg, to $10.10 for a half bird and $17.25 for a whole bird. Salads start at $10.95, with bowls of grilled chicken in numerous assortments with multiple garnishes ("Zeus", "Bueno" and "Country BBQ") starting at $10.50. I tried Grilled Mojo with the Mexican corn side and it was tasty and filling with a zesty tang  – well worth the price!  What is the selling point for this latest fast, casual entry, right next to such choices as Arby's, Vert's, and Schnippers on 23rd ? Here's Field Failing, Founder and Managing Partner's pitch: "Field's Good Chicken was born in 2014 with a simple purpose: to nourish your adventures – As a cyclist and a skier, I'm constantly in search of food to fuel my life.  At Field's Good Chicken, we create food from scratch with hand-selected ingredients that is satisfying enough to eat every day.  Simple, no BS food for your daily adventures … !"  Yes, that would certainly explain the furnishings and sleek decor in the new store, including a wall-mounted racing bike,  and a plethora of landscape photos of bike paths. Check out this quick Flatiron Hot! Video clip to see the new choices – which I recommend for all Flatiron lunch-goers!