At the Center for Jewish History: The Relevance of Isaiah Berlin as Interpreted by New York Times Columnist Roger Cohen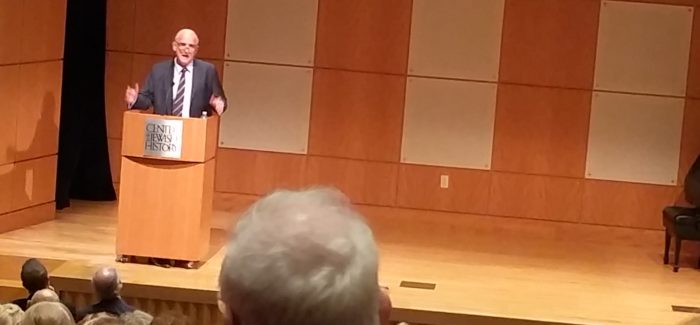 On

July 11, 2017

http://www.flatironhotnews.com
Reported by Elliot Gross for the Flatiron Hot! News
At a recent event at the the Center for Jewish History noted New York Times columnist Roger Cohen delivered a speech on the political philosophy of British theorist Isaiah Berlin. However, this talk had a special angle, focusing on how Mr. Berlin would react to today's political climate, and specifically to U.S. President Donald J. Trump. Starting out with background information on Mr. Berlin, Cohen proceeded to talk about how people were attracted to Mr. Trump in the framework of Berlin's thought process. Mr. Cohen went on to talk about the necessity of the press in a free society, and how the press interacts with President Trump.
At the following Q&A, many were eager to get Mr.Cohen's views on how to interpret the actions of the president, and how to react to them. However, some in the audience were fatigued from the near constant talk of the president, and steered the conversation more towards the ideas of Isaiah Berlin such as the "Two Concepts of Liberty" and Value Pluralism. The event was followed by wine and cheese, along with a chance to talk to Mr.Cohen one-on-one.
This talk was part of a larger program currently happening at the Center for Jewish History in conjunction with an exhibition they are co-sponsoring with partner organization Yeshiva University Museum  and Oxford's Corpus Christi College called "500 Years of Treasures from Oxford."  The exhibition contains a plethora of Anglo-Jewish artifacts on display for the first time in the United States, among other things. Along with the exhibit, lectures by various leading figures in academia and journalism will be occurring until the exhibit ends on August 6th. An online recording of this lecture is available on the Jewish Broadcasting Service website at www.jbstv.com.