Above Ground Concert: The Affinity Brass Quartet in Madison Square Park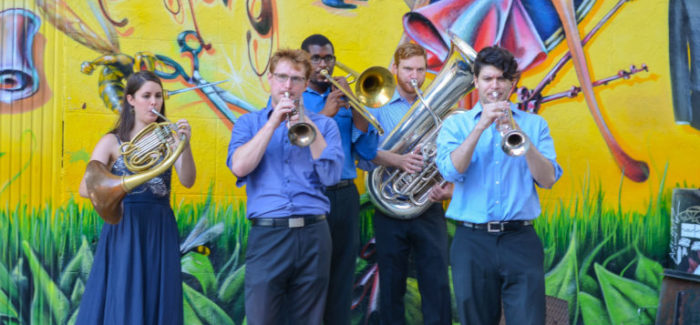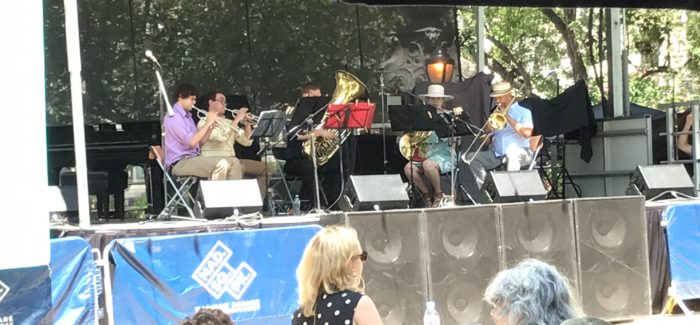 On

August 9, 2017

http://www.flatironhotnews.com
Reported by Max Shapiro
The musical group performing in Madison Square Park's latest weekly "Above Ground" concert today was The Affinity Brass Quartet. The group's members are Michael Sinicropi (trumpet), Casey Tamanaha (trumpet), Adam Norris (horn), Ronald Wilkins (trombone), and Andrew Madej (tuba).
The group is described as "A fresh face for chamber music in New York" and they aim "to provide performances of the highest artistic caliber that both inspire and entertain. Presenting a wide array of music from arrangements of the classics to popular jazz, from pop music to the standards of brass quintet literature, Affinity, calls upon the diverse background of each of its members to provide an eclectic mix of music and styles." Their incredibly diverse repertoire consists of brass quintets, orchestral arrangements, Broadway arrangements, wedding music, jazz, marches, traditional, rock, pop, rag, children's music, and holiday music. The full list of songs they cover can be seen here.
Watch a bit of today's performance in the video below. Next Wednesday's concert (12-1 PM) features The Wali Sanga.