Two to Try in Flatiron: Terri's Vegan Eatery & Beecher's Hand-Made Cheeses!

On

December 22, 2017

http://www.flatironhotnews.com
Reported for the Flatiron Hot! News by Katee Sosa
Terri: A vegan's delight
People with dietary restrictions often find their dining options limited within the Flatiron District/Chelsea area. One of the few restaurants in the area that is determined to address these needs is Terri, a plant-based fast food spot. This vegan hub and hidden gem is located on 23rd Street between 5th and 6th Avenues. Other locations can be found in Midtown and the Financial District. Right across the street from the New York City Seminar and Conference Center, Terri is devoted to providing service to everyone ranging from those stopping in for a quick bite during the busy work day, to larger parties in need of delicious, fresh catering. At this location, wholesome meals offered are 100% vegan and kosher.
The cafe stands by the mission statement of "Real food, Real ingredients, Real fast". When I visited, that is exactly what I got. Upon entering Terri, I was overwhelmed by a menu board of exciting, healthy dishes. After some contemplation and a few moments of hunger pangs, I decided to try the Kale Superfood Salad. This specialty salad consists of kale, avocado, roasted sweet potato, cherry tomatoes, cucumber, quinoa, and chickpeas, topped with a lemon tahini dressing. The salad was colorful, full of flavor, and left me with a smile and a feeling of healthy satisfaction.
Customers kept coming and going. One of them was excited to mention that she "love(s) Terri" and "come(s) here all the time", while another joked "where's the beef?!" when asked what he thought of the menu. Later on, that same customer went on to say "the buffalo chicken sandwich is my favorite item on the menu". Now you may be thinking to yourself, "What is a buffalo chicken sandwich doing on a vegan menu?!" Well, like many vegan and vegetarian places nowadays, Terri uses soy-based substitutes  to create "meat" and "cheese" alternatives; such as the "chicken" in their buffalo chicken sandwich. This intrigued me. As someone who does eat meat and dairy products, I can understand the appeal of slowly easing people into the idea of a plant-based diet with meat-like dishes, rather than quitting cold turkey–pun intended.
With its extensive menu, prices at Terri range from $5 to $13. The menu includes something for just about everyone, listing salads, wraps, sandwiches and combo plates; beverages include a variety of smoothies, juices and shakes. Finally, if you're in need of something to take back to the office, or just need a little something for that 3 PM sugar craving, they offer vegan pastries, like brownies, cookies, scones and doughnuts.
Even if you aren't vegan and don't have any dietary restrictions, don't let the plant-based reputation intimidate you! Give Terri a try next time you want a "feel-good" meal, you won't regret it!
Beecher's Handmade Cheese–Say "cheese" and smile!
Cheese lovers–experience the time-tested craft of cheesemaking at the Flatiron district's very own Beecher's Handmade Cheese. From the extensive selection of cheese, pleasant atmosphere and friendly service, what isn't there to love about this place? Gouda, cheddar, brie, you name it and they probably have it.
This store, cafe, and restaurant opened its doors in 2011 after its creator decided to extend its Seattle-based market to the bustling streets of New York. Located off Broadway on 20th Street, this location is just blocks away from the Flatiron Building and the New York City Seminar and Conference Center. The rustic yet modern decor brings all aspects of cheesemaking to the table. From the cow skin couches to the giant windows overlooking cheesemakers hard at work, curious customers can enjoy a quick bite while exposed to all aspects of the artistry that goes into making this award-winning cheese.
The cheese is presented in two ways: raw or prepared. If you are looking for cheese to pair with crackers at your next event, you're in luck. The store offers abundant rows and rows of cheese blocks for sale. If you are not sure what hunk of cheese to get, there are samples available to help you find a piece of cheese you will love. If you get a break from your busy day, stop in to try some tasty items off the menu. The delicious choices consist of breakfast, salads, soups, grilled sandwiches and what Beecher's swears by, the "world's best" mac and cheese; all the items feature a specialty type of cheese. Prices range from $6 to $12.
As a cheese fanatic, I struggled to pick only one item off the menu. So I decided not to limit my cravings. I ordered a grilled cheese sandwich along with some tomato soup. The grilled cheese was cheesy, greasy and overall pleasing. I also decided to try the mac and cheese which, in my opinion, wasn't the "world's best" mac and cheese. It is still, however, worth a try.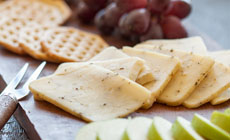 But the vital part of the cheese shop lies beneath the floorboards in the "The Cellar". This lower level serves a double function of storage and restaurant. In the cheese cellar, the artisan cheese is able "ripen to perfection." The restaurant allows guests to pair some wine with a variety of delectable, shareable items on the menu.
And if you are feeling guilty for consuming an abundance of cheese, I should mention that Beecher's is set on the mission "to empower kids to make healthy food choices for life" through its Pure Foods Kids Workshop.  With a little help from the cows and delicious taste of the cheese, more than 20,000 4th and 5th graders have received nutritional education and cooking programs through funds provided by Beecher's. For more information visit http://www.purefoodkids.org.
This may be cheesy to say, but Beecher's will make you feel "grate." Don't believe me? Give it a try!