Flatiron Hot! Gamer: Nintendo 2017 Year-In Review (Part 1: Switch, 3DS, SNES Classic Edition)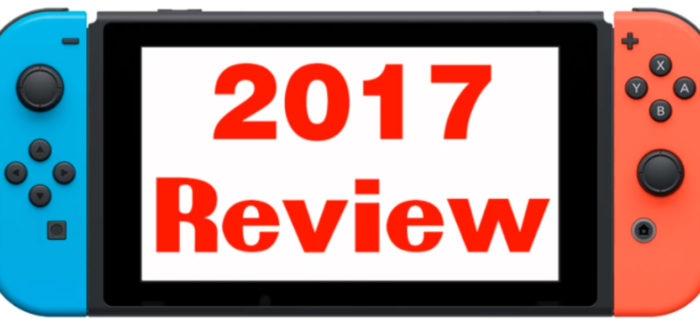 On

January 28, 2018

http://www.flatironhotnews.com
By Max Shapiro
Well folks, yet another year has come and gone in what seems like the blink of an eye. Now that 2017 has come to a close, I thought I'd follow in the footsteps of several other gaming outlets and take a moment to reflect on how well Nintendo as a company fared throughout this past year.
2016 had to be one Nintendo's weakest years on record. Very few noteworthy games came out, the Wii U was having a slow but steady death, and most fans basically spent the bulk of that year twiddling their thumbs, waiting for the mysterious Nintendo NX to be announced already. The company had a lot to prove going into last year, since many gamers thought they were down and out for good.
But boy did they prove them wrong. Because as we now know, a panicked Nintendo is a good Nintendo. Whenever they're backed corner and are forced to try a brand new approach, that's when things get exciting. Now allow me dive into the specifics of why 2017 will always be remembered as Nintendo's comeback year.
Making the Switch
The wait for the unveiling of Project "NX" may have a been an agonizing one, but man was it something when we finally saw it. I had some concerns about the Nintendo Switch when the curtain was finally pulled back in October of 2016, many of which were put to rest after the live presentation the company held the following January. This event showcased just how big of a game-changer the hybrid nature of the Switch was, and as its sales numbers show, people latched onto it instantly. At this point, the Switch has sold about 10 million units. To put things in perspective, the Wii U sold roughly 13 million units throughout its entire lifespan, meaning that the Switch is damn near close to eclipsing the Wii U's lifetime sales after being on the market for only ten months. Not to mention the it's also both overtaken the first-year sales of the PS2 (aka the best-selling console of all time) in Japan, and become the fastest-selling console of all time in the United States. Granted the system's launch wasn't entirely smooth sailing, since Nintendo had a pretty hard time meeting stock demands for the first few months of the Switch being on the market, but it seems that in recent months these shortages have ended and getting your hands on the console isn't too hard anymore.
But it wasn't just the revolutionary concept of taking full-scale console games on the go that sold the Switch. A ton of the credit also goes to the games, because this has to be one the best year-one lineups any system has seen. For starters, the it had the benefit of releasing alongside what has the be the single best launch title for any console ever: The Legend of Zelda: Breath of the Wild. Universally hailed by both critics and fans as not only one of the best Legend of Zelda games but one of the greatest games of all time, it's needless to say that this title helped kick off the console's life on a high note. And thankfully, Nintendo kept that momentum going by releasing at least one major game nearly every month: We got Mario Kart 8 Deluxe in April, Arms in June, Splatoon 2 in July, Mario + Rabbids: Kingdom Battle in August, Pokkén Tournament DX in September, both Fire Emblem Warriors and Super Mario Odyssey (another acclaimed masterpiece) in October, and Xenoblade Chronicles 2 in December.  
But it wasn't Nintendo alone that was supporting the Switch, because third-party support wasn't too shabby either. While it still has ways to go before it's on par with the kind of support the PS4 and Xbox One get, it's still a major step up from the practically nonexistent third-party support the Wii U ended up having. That Mario/Rabbids crossover was actually developed by Ubisoft. Sega gave us Puyo Puyo Tetris, Sonic Mania, and Sonic Forces for the system, and we got two major sports titles in the form of EA's FIFA 18 and 2K Sports' NBA 2K 18. Square Enix announced a brand new Switch exclusive under the working title Project Octopath Traveler, due for release next year, in addition to a remake of the 2007 DS game The World Ends with You for the system. Rockstar Games released a port of their 2011 game LA Noire, and Capcom came out with Ultra Street Fighter 2, with Mega Man 11 also coming later this year. But of all these developers, the one that really takes the cake is Bethesda. This studio has already put 2011's The Elder Scrolls V: Skyrim and 2016's Doom on the Switch, and their latest title, Wolfenstein II: The New Colossus, will be hitting the system later this year. And finally, there was the onslaught of top-quality games from indie developers, including Shovel Knight, Rocket League, Golf Story, SteamWorld Dig 2, and many, many more.
In year one of the Wii U, people complained about not having enough to play. This time around, their problem has been the exact to opposite. And if this past year was indicative of what's to come, the Switch is on track to have one of the most robust game libraries out any Nintendo console.
Out With the Old?
Despite 2017 being the Switch's year to shine, the 3DS also did pretty well for itself. Sales for the system seem to be as strong as ever, and it wasn't without its share of quality releases in the form of Fire Emblem Echoes: Shadows of Valentina, Ever Oasis, Hey! Pikmin, the Mario & Luigi: Superstar Saga remake, Pokémon Ultra Sun and Ultra Moon, and most notably, Metroid Samus Returns. With this many solid games continuing to be churned out, Nintendo has given you little reason to put your 3DS away.
But that brings us to the problem: might it finally time to put the 3DS away? At this point, the handheld is nearly seven years old, and the arrival of the Switch puts it in an awkward place. As we know, the biggest part of the Switch's appeal is its ability to be taken on the go, and I get the feeling that very few people want to be lugging two separate handhelds around. And since the Switch is a shiny new system that has a way better screen and packs infinitely more power, it's the option almost anyone is going to go with.
Now I know that the classic argument is: "Why should Nintendo discontinue the 3DS? It's been so successful." Well, by that logic they should still be supporting the original DS because that system was just as successful, if not more so. And keep in mind that the sales number is different from the attach rate. The 3DS has sold about 69 million units, but that number accounts for every one sold since its release in March 2011—which means that a good chunk of those 69 million 3DS owners have probably long since stopped using theirs.
Look, don't get me wrong: I love the 3DS. Thanks to its outstanding library (both first-party and third-party), it's arguably Nintendo's best handheld ever. But it's had its time in the sun. Keeping it alive in 2017 made sense because it was basically Nintendo's insurance plan in case the Switch didn't sell well. But that clearly didn't happen, which means that the 3DS has been rendered almost entirely redundant, and it's time for it to be put to rest.
Bringing Back the Classics
In 2016, Nintendo released the NES Classic Edition, a bite-sized NES console with 30 classic games digitally installed. Considering how much nostalgia people hold for gaming in the 80s (which includes those who haven't touched a video game since), this sounds like an easy recipe for success, right? You'd think so, but there one major problem: it was woefully understocked. Pre-orders for the system were practically sold out before you could even blink, and once it hit shelves it sold through its scarce 2.3 million-unit shipment just as quickly once. Tons of people had to pay an arm and a leg to scalpers in order to get their hands on one, while tons more simply lost interest. And not only did Nintendo never restock the NES Classic once it sold out, they decided to discontinue its production altogether back in April. Talk about missed potential.
But this past holiday season, Nintendo decided to take another swing at this concept with the SNES Classic Edition. It seems like stock shortages for this system weren't quite as bad, but finding one still wasn't a exactly piece of cake. But at the very least, Nintendo confirmed that production of the SNES Classic will continue though 2018, so it looks like there will be plenty more opportunities to pick one up if you haven't done so already.
Be sure to check out part 2 of this piece once you've finished reading this.